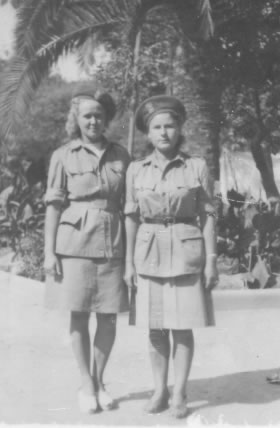 Anna Usowicz (r) and friend finally free in Italy 1945
Preserving the PISM and helping the Hoover.
The second generation, led by the Kresy-Siberia Group, is mobilizing volunteers and seeking funding to bring the Polish Institute and Sikorski Museum into the 21st century. The Board of Directors is considering proposals to organize and computerize the archive. The aim is not only to preserve the materials but to make them more available to researchers. Donations of time and dollars are needed.
Meanwhile, volunteers are being sought to help organize the Polish collections at the Hoover Institution Archive at Stanford University in California. The ultimate goal is to make the documents available to all on the Institution's internet web site. Interested volunteers should have sufficient knowledge of the Polish language. Please e-mail us and we will direct you to the appropriate personnel.